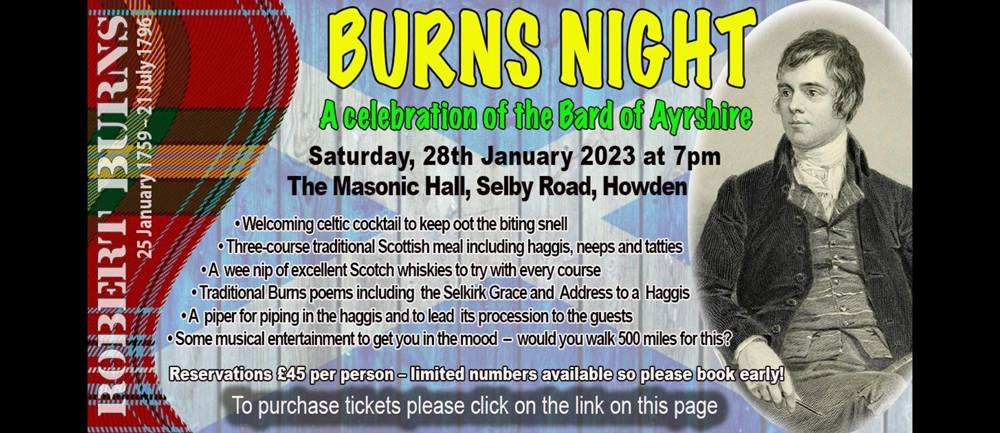 28 January
Howden Burns' Night Dinner Event
By Shane & Georgette Jarvis
Howden Burns' Night Dinner Event
<![endif]-->
IT'S BURNS NIGHT 2023!

SATURDAY, 28th JANUARY 2023 from 7pm

THE MASONIC HALL, SELBY ROAD, HOWDEN DN14 7JW

Car parking on site

Back by popular demand, welcome to the second of a long tradition in Howden, stretching all the way back to 2022, our very own BURNS NIGHT SUPPER.

Please join us for an evening of celebration, commemorating the 264th anniversary of the birth of ROBERT BURNS, the Bard of Ayrshire.

• Welcome cocktail to kick off the evening

• Three course meal comprising some of Scotland's finest traditional dishes

• Special pack of Scotch whiskies worth £15 hand-picked by The Spirit Specialist to accompany each course or to take home

• Guest Piper to recite the Address to a Haggis and to pipe in the Haggis

• Some live entertainment including some traditional (and not so traditional) Scottish anthems

Our grateful thanks to Ben Bowers, the Spirit Specialist of Howden, for his help and expertise in getting this put together with us.

Bookings £45 per person. Please reserve your places by clicking on the link above. If you have any questions, please call Georgette on 07834 351986.

Please book early – spaces are limited and will be accepted on a first come first served basis.

We look forward to seeing you there!
£0.00
Sat, 28 Jan, 7:00pm - 10:00pm