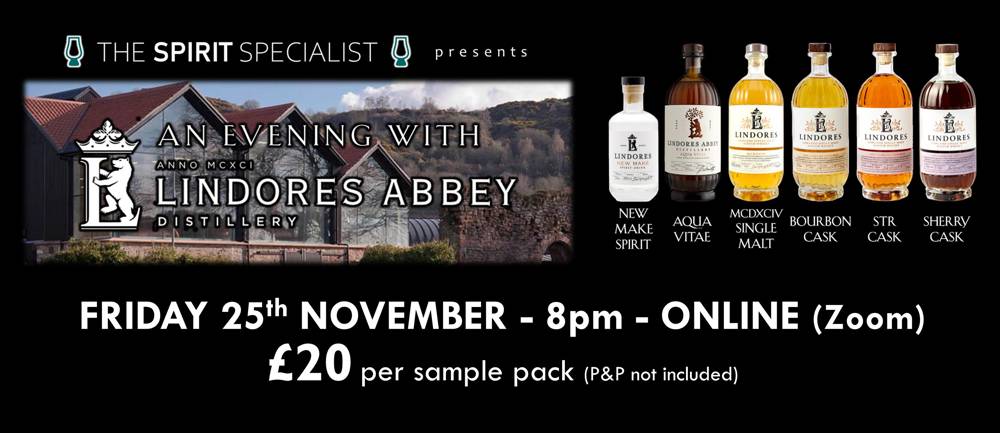 25 November
Lindores Abbey Distillery - The Complete Collection Online Tasting Event
By The Spirit Specialist
Lindores Abbey Distillery - The Complete Collection Online Tasting Event
Founded in 2016 by custodian Drew MacKenzie-Smith, Lindores Abbey Distillery is located on the site of a Tironesian monastery dating back to the 12th Century, and is also the focus of the first written reference to whisky in Scotland, with a order of 'eight bols of malt' from King James IV to Friar John Cor to produce 'aqua vitae'. Using this history as inspiration, Lindores Abbey now produce single malt whiskies and an Aqua Vitae inspired by the original recipes.
Join The Spirit Specialist - with brand ambassador Murray Stevenson dialling in from Scotland - to explore the current complete collection of spirits and whiskies available to the general public. We'll discover how the New Make Spirit provides the core flavour profile along with the influences of the three cask types used to create the core Single Malt.
The tasting will feature:
- Lindores Abbey New Make Spirit
- Lindores Abbey Aqua Vitae
- Lindores Abbey MCDXCIV Single Malt Whisky
- Lindores Abbey The Casks of Lindores Bourbon Cask Matured
- Lindores Abbey The Casks of Lindores STR Cask Matured
- Lindores Abbey The Casks of Lindores Oloroso Sherry Matured

Tickets cost £20 and each purchase entitles you to a pack of 6 x 30ml measures to enjoy on the night, plus exclusive access to a private Zoom call on the evening of Friday 25th November 2022 in which an informative and entertaining presentation will be given.
For those unable to make the event live in person, a recording of the stream will be uploaded to YouTube on a private link immediately after, meaning you can watch along at your leisure.

The ticket price does not include postage of the sample pack to your door if this is required - please choose click-and-collect to pick up from our shop in Howden, East Yorkshire or select the postage options at checkout. Sample packs will be shipped out to ensure they arrive in good time for the event, however please be aware that delays by couriers outside our control may prevent the packs arriving to you in time, so we recommend purchasing packs for shipping by Saturday 19th November at the very latest.
This event is
strictly limited
in numbers so don't delay in purchasing!
£20.00
Fri, 25 Nov, 8:00pm - 10:00pm
Online - Zoom